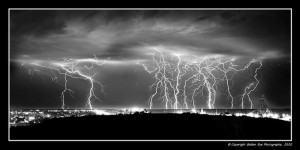 Last night, like many other people around here, I was awakened by a monstrous thunderstorm. I have a love/hate relationship with thunderstorms. I think they're an interesting phenomenon, and exciting to watch. I just don't care for them much when they come close.
I'm not sure when it started, but thunderstorms would trigger extreme anxiety and panic attacks. I only felt safe in large buildings where I couldn't hear or see what was going on outside. At the very least, I would try to get to a basement somewhere. But at the time this was going on, I lived in a small mobile home with very thin walls, and no basement to hide in. It was horrible.
Luckily, with the help of some anti-anxiety medication, I was able to face my fears head-on. I'm nowhere near as frightened of thunderstorms that I used to be. I can usually tolerate them now, but I still have a hard time when they come in the middle of the night. Also to my advantage, I now live in a house with a basement.
So there I was last night, wide awake and chillin' in the basement bathroom while I waited for the storm to pass. No anxiety. No panic attack. As I sat there, I tracked the storm with the weather app on my iPad.
I didn't even have to look outside.